Signing event took place today and was attended by Ministers for Education and Higher Education
ConnecME Education (Exclusive partner to ACT in the region) will be administering the tests, and insuring high quality standards
Egyptian schools will use the ACT Aspire system for summative assessment of learning in Grades 3 through 9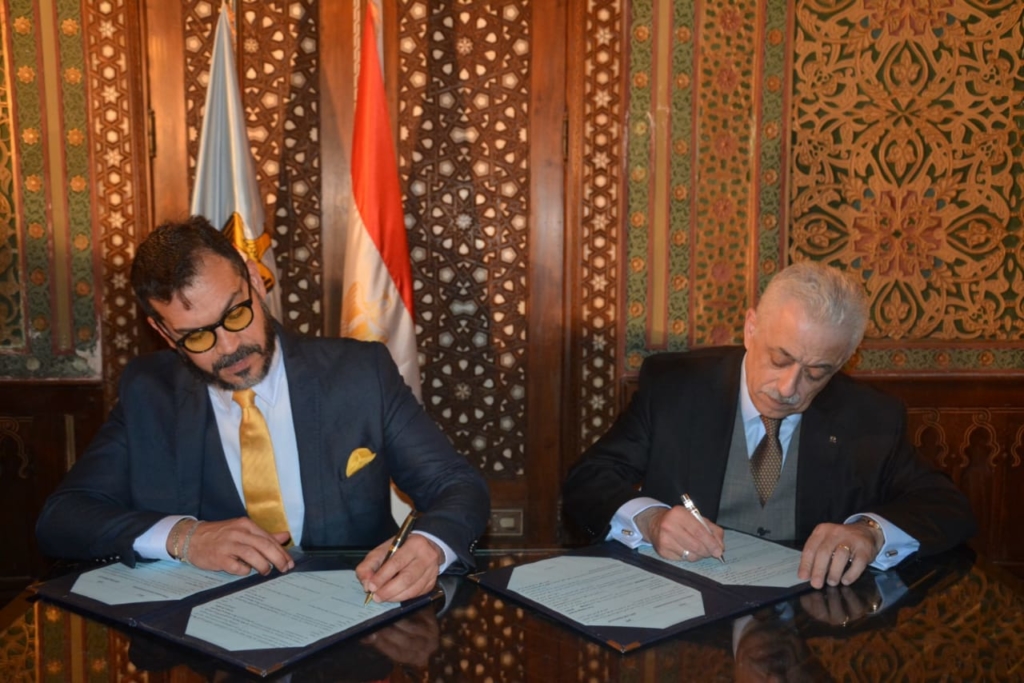 CAIRO, EGYPT-The Ministry of Education in Egypt has given its official approval and recognition of the ACT test as an acceptable academic measure to be administered and used in the country, as equivalency to the Egyptian National Exam, and for the ACT Aspire standardized tests for monitoring student performance and achievement grades 3-9.
This announcement will open more doors for students in Egypt seeking admission to universities both home and abroad. A choice in examination credentials means that students will have more options to find their ideal future educational path.
ACT is a trusted American non-profit organization in college and career readiness, providing high-quality assessments grounded in nearly 60 years of research. The ACT test is the most popular university admissions test in the US, with more than 60 percent of the US high school graduates taking the assessment. With ACT Aspire, educators can determine whether students are meeting key benchmarks on their educational journey, so necessary steps can be taken to keep him or her on track. ACT Aspire is also aligned to the ACT test and can predict the student's ACT score.
"We are delighted to be working with the Ministry of Education to help measure and verify learning among Egyptian students and students at American high schools in the country," said ACT Chief Commercial Officer Suzana Delanghe. "This agreement will truly give students more choice and greater flexibility in testing. ACT's assessments are trusted around the world to measure college and career readiness, and ACT is committed to serving international markets and helping them prepare students for success."
ConnecME Education, the ACT exclusive partner for the Middle East and North Africa region, administers all the tests in the region and has been instrumental in bringing the ACT to higher visibility in the area, and in pursuing equivalency in Egypt. ConnecME continues its objective of assisting governments and students in increasing opportunities, and allowing students to find their best pathway to further education and employment.
The signing took place on September 15 at the Ministry of Higher Education the event was attended by the Minister of Education His Excellency Dr. Tarek Shawky, and the Minister of Higher Education His Excellency Dr. Khaled Abdel-Ghaffar
The event was also attended  by ConnecME Education CEO Mohammad Shadid who said at the day: "We are honoured to be part of this action by the Ministry of Education. The ACT will help a new generation of Egyptian students. Moreover it opens the very exciting door of more students returning home with elite skills and qualifications" He continued "We are grateful for the support and vision, from the Ministry of Education, who has always maintained the pursuing of the best interests of students in Egypt above all else, and we are excited to be working directly with them in the introduction of the test to Egypt"
About ACT
ACT is a mission-driven, non-profit organization dedicated to helping people achieve education and workplace success. Headquartered in Iowa City, Iowa, ACT is trusted as a national leader in college and career readiness, providing high-quality assessments grounded in nearly 60 years of research. ACT offers a uniquely integrated set of solutions designed to provide personalized insights that help individuals succeed from elementary school through career.
About ConnecME
ConnecME is an international educational company that understands the importance of empowerment and global citizenship. With its strong partnerships, it aims to provide tailored educational solutions to meet the unique needs of schools, universities, and government departments. With ACT, ConnecME's goal is to provide students with opportunities to help them become globally competitive and to attain excellence and recognition in the global domain. They view their role as one of continuous support to the student, in helping them open more doors to opportunities both home and abroad.
few words
"We are grateful for the support and vision, from the Ministry of Education, who has always maintained the pursuing of the best interests of students in Egypt above all else, and we are excited to be working directly with them in the introduction of the test to Egypt"
Mohammad Shadid
CEO ConnecME Education